Christmas Tree, A Symbol Of Celebration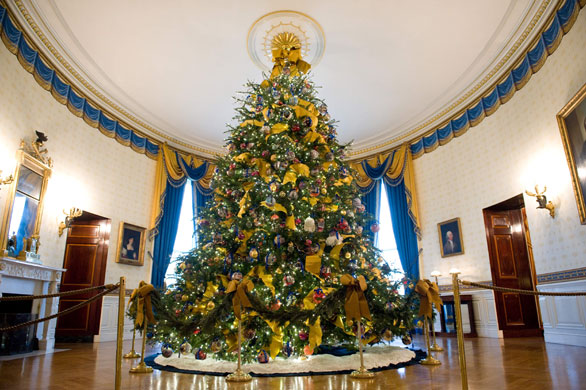 "O Christmas tree, O Christmas tree! How are thy leaves so verdant!"
What is Christmas without a Christmas tree? Christmas in most homes typically begins with the selection of an evergreen tree in early December that is elaborately and exquisitely decorated through till Christmas Day. Gifts are placed under it as families gather around to celebrate Christmas. Acknowledging this spirit, the US Senate recently passed a resolution declaring that December 4 through 10 will be celebrated each year as National Christmas Tree Week. Would you like to take a look at the rich tradition and history behind the trees? Then read on....
A long history!
Since ancient times, people have taken evergreen plants and flowers indoors, seeing in them magical and religious significance. Greeks and Romans believed in ivy; Celts and Scandinavians liked mistletoe. Holly, laurel, pine and firs were considered to have magical and medicinal powers by Pagans.
According to legend, in 8th century AD, Saint Boniface, an English missionary, convinced German pagans that their Gods lacked power by felling a very revered oak tree with a single stroke of an axe. The tree destroyed everything around it, except the Saint and a few fir trees. It is believed that, convinced about the power of the Saint, converts followed his advice of celebrating Christmas by bringing the surviving firs indoors. However the earliest proven record of an evergreen tree being used and decorated for Christmas - but without lights, was in the German region of Alsace in 1521. Christmas trees became a Catholic tradition only in the 19th century. In all these celebrations, evergreens have symbolized peace and immortality.
In the US, the Christmas tree tradition is attributed to Rev. Martin Luther King Jr. He is said to have been inspired by the starry heavens, and expressed his feelings to his family by bringing a fir tree into his home and attaching lighted candles to its branches. Fir signifies fire - an ancient symbol for spirit. The leaves pointing upwards symbolize heaven.
While firs are used as Christmas trees, these days though, approximately 50 varieties of conifers are sold to holiday shoppers including pines and spruces.
Famous Christmas trees around the world
The Rockefeller Center Christmas tree in NYC, one of the most spectacular, is a world-wide symbol of the holidays. This year a Norway Spruce was illuminated with over 30,000 environmentally friendly LED lights at a very festive tree lighting ceremony on Nov 30, 2011.
Under the aegis of the National Parks Service, since 1923, the National Christmas Tree - a living tree, is lit each year in the Ellipse, the grassy area south of the White House. Every state contributes decorations which are enclosed in protective plastic globes to shield them from the weather. The annual lighting ceremony is accompanied by live music and appearance by the first family.
The official White House tree displayed in the Blue Room is known for its exquisite decorations and is picked each year through a lottery.
Do you celebrate Christmas? Does the Christmas tree form part of your household tradition? As the world celebrates the festival of Christmas, tell us about the most memorable Christmas Tree you have seen.
Source:NCTA, Whitehouse.gov